Johann Sebastian Bach / Wolfgang Amadeus Mozart
Ludwig Van Beethoven / George Frideric Handel
***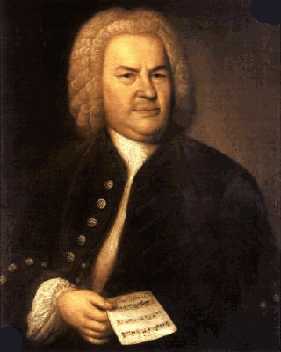 Johann Sebastian Bach
1685-1750
Violinist/Pianist/Organist/Composer
"Bourree Lute Suite"

What he Did:
Considered the greatest composer of the Baroque period.
Known as "the Christian composer"
Master of Church Music
"Toccata and Fugue in D Minor", perhaps the most famous piece he ever composed. It is played in churches, and used frequently for theme music for computer games in modern times.
Other famous compositions include: Mass in B minor, St. Matthew's Passion, The Brandenberg Concertos and Wachet Auf.
Bach initialed his blank manuscripts before he began to compose with "J.J." (Jesu Juva--"Help me, Jesus!) or "I.N.J." (In Nomine Jesu--"In the name of Jesus"). When the manuscript was done, he initialed "S.D.G." (Soli Deo Gloria--"To God alone, the glory")
He had over twenty children. His children also became successful musicians as well.
What he said:

"The aim and final end of all music should be none other than the glory of God and the true refreshment of the soul. If heed is not paid to this, it is not true music but a diabolical bawling and twanging""

"Music is an agreeable harmony for the honor of God and the permissible delights of the soul."

"Where there is devotional music, God is always at hand with His gracious presence "

"O God, from Heaven Look Down" [On June 18, 1724 Johann Sebastian Bach first presented his newly composed Cantata]
---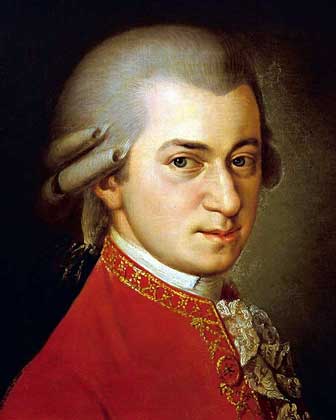 Wolfgang Amadeus Mozart
1756-1791
Violinist/Pianist/Organist/Composer
"Requiem in D Minor"

What he Did:
He showed musical gifts at a very early age, composing when he was five and when he was six playing before the Bavarian elector and the Austrian empress.
Mozart composed over 600 works including: 21 stage and opera works, 15 Masses, over 50 symphonies, 25 piano concertos, 12 violin concertos, 27 concert arias, 17 piano sonatas, 26 string quartets, and many other pieces.
What he said:
"It is a great consolation for me to remember that the Lord, to whom I had drawn near in humble and child-like faith, has suffered and died for me, and that He will look on me in love and compassion."
"As death, when we come to consider it closely, is the true goal of our existence, I have formed during the last few years such close relations with this best and truest friend of mankind, that his image is not only no longer terrifying to me, but is indeed very soothing and consoling! And I thank my God for graciously granting me the opportunity ... of learning that death is the key which unlocks the door to our true happiness."
"I must learn to submit to the will of God" July 3,1778
"By the mercy of God, I have borne it (the death of my mother) with all firmness and composure. When danger came I prayed to my heavenly father for only two things--a happy death for my mother, and strength and courage for myself, and our graceous God heard my prayer, and conferred those two boons fully upon me.

---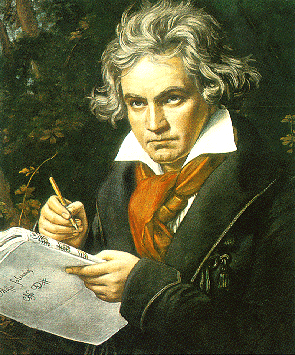 Ludwig Van Beethovan
1770 - 1827
Violinist/Pianist/Composer

"Fur Elise"

What he Did:
Famous works: Symphonies 1 through 9, Moonlight Sonata, Fur Elise, Fidelio, and Missa Solemnis
What he Said:
"Great Music Glorifies God" [from his Life and Works]
"I have no friend. I must live by myself. I know, however, that God is nearer to me than others. I go without fear to Him, I have constantly recognized and understood Him." [1810; Philip Kruseman, Beethoven's Own Words (London: Hinricksen Edition, 1947) p. 53]
---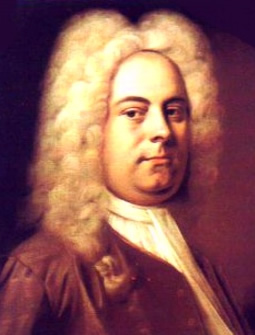 George Frideric Handel
1685-1759
Violinist/Pianist/Composer
"Hallelujah"

What he Did:
He performed many Oratorios (operas without costumes and scenery). In them a chorus of singers told a biblical story by singing it to the audience.
For twenty-four days, George Frideric Handel had not left his house. His servant brought him trays of food, but he ate only a little. Completely immersed in composition and Bible reading, he let nothing deter him from the colossal work at hand, The Messiah.
Handel was one of several creative people who helped the European public accept personal expression. He encouraged people to show their respect for God by supporting social causes.

What he Said:
"It pleased the Almighty, to whose great Holy Will I submit myself with Christian submission" [letter written to his brother-in-law on the death of Handel's mother]
"I did think I did see all Heaven before me, and the Great God Himself." [When writing the Hallelujah chorus to Handel]
Near his death, Handel expressed a desire to die before Easter, "in the hopes of meeting his good God, his sweet Lord and Savior, on the Day of His Resurrection."