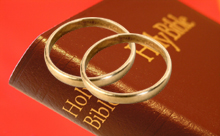 The debate over the morality of same-sex marriage has so intensified that it has even found its way into theological circles. Today major professing Christian denominations are even investigating the possibility of allowing homosexuals full access to the church, including becoming members of its clergy. In broader religious circles there has even emerged arguments that seek to redefine the traditional Bible wisdom concerning marriage and its application to same-sex couples.
This now brings us to the question of the day. What was and is Jesus' opinion of same-sex marriage? Did He ever address this issue during His ministry?
Although same-sex marriage does not consume vast numbers of pages in your Bible, marriage itself is addressed with considerable force. Furthermore, the Messiah's allusion to it makes a clear statement regarding this issue. To best understand the Biblical perspective on homosexual unions we must go back to the very beginning.
The book of Genesis reveals that when God created the first man (Adam) He made a profound but often misunderstood statement about him. Notice what He said.
And the LORD God said, It is not good that the man should be alone; I will make him a help meet for him. (Gen. 2:18)
These words are not born out of discovery. In other words, God didn't somehow arrive at this understanding after He saw what He had created. His words are instead revelation. Here, the Great Creator of all that exists is declaring that man, whom He has just formed out of the dust of the earth was never intended to be a solitary creature. God made him with the express intent to share life with a special companion. And He knew exactly how to accomplish this.
And the LORD God caused a deep sleep to fall upon Adam, and he slept: and he took one of his ribs, and closed up the flesh instead thereof; And the rib, which the LORD God had taken from man, made he a woman, and brought her unto the man. And Adam said, This is now bone of my bones, and flesh of my flesh: she shall be called Woman, because she was taken out of Man. (Gen. 2:21-23)
What follows are words that will echo down through the teachings of the sacred scriptures—and for good reason. God binds Adam and Eve in marriage and announces that the union this first human couple has been joined into shall be the standard for all mankind.
Therefore shall a man leave his father and his mother, and shall cleave unto his wife: and they shall be one flesh. (Gen. 2:24)
There were undoubtedly many ways God could have addressed human relationships at this time, but it is clear that He distinguished the one between a man and a woman as unique and special. Not only did He create male and female with profound emotional links, but He also made them biologically compatible. Simply put, man and woman fit together physically.
The words employed in Genesis when joining Adam and Eve together in a God ordained relationship would later be used when addressing the significance of marriage. Jesus Christ employed them when speaking to the religious leaders of His day. At that time He defended the purpose of marriage and indicated that this was why God created the sexes.
The Pharisees also came unto him, tempting him, and saying unto him, Is it lawful for a man to put away his wife for any reason? And He answered and said unto them, "Have ye not read, that he which made them at the beginning made them male and female," And said, For this cause shall a man leave father and mother, and shall cleave to his wife: and they twain shall be one flesh? Wherefore they are no more twain, but one flesh. What therefore God hath joined together let not man put asunder. (Mt. 19:3-6)
Here the Messiah is stating with great force that the reason God created man and woman was for the express purpose of marriage. Furthermore, never once did He remotely hint that marriage could be just as legitimate if entered into by people of the same sex. Despite this fact pro-homosexual advocacy groups claim otherwise. In a sense they see marriage as a human institution and therefore it may be altered any way humans see fit.
However, Jesus said differently. He attributed marriage to God: "What therefore God hath joined together let not man put asunder." Now ask yourself: whom did He join together? The answer: man and woman. It is the husband and wife that become one flesh. The intimacy they enjoy is unique to heterosexual unions.
The Purpose of Marriage
Marriage is the first step in building a family. This is a fact that God is all too familiar with. When God joined the first man and woman together, He was revealing a far greater lesson that will be played out with spectacular pageantry. The apostle Paul understood this truth and remarkably invoked the words used in Genesis. He begins by outlining the roles of the husband and wife. Notice what Paul wrote.
Wives, submit yourselves unto your own husbands, as unto the Lord. For the husband is the head of the wife, even as Christ is the head of the church: and he is the savior of the body. Therefore as the church is subject unto Christ, so let the wives be to their own husbands in every thing.
Husbands, love your wives, even as Christ also loved the church, and gave himself for it; That he might sanctify and cleanse it with the washing of water by the word, That he might present it to himself a glorious church, not having spot, or wrinkle, or any such thing; but that it should be holy and without blemish. So ought men to love their wives as their own bodies. He that loves his wife loves himself. For no man ever yet hated his own flesh; but nourishes and cherishes it, even as the Lord the church: For we are members of his body, of his flesh, and of his bones.
Paul then returns to the words used when Adam and Eve were married after which he explains what it all means.
For this cause shall a man leave his father and mother, and shall be joined unto his wife, and they two shall be one flesh. This is a great mystery: but I speak concerning Christ and the church. (Eph. 5:22-32)
The great mystery is that the God ordained purpose of marriage is that it pictures the ultimate union of Christ and His Bride, the Church. There is coming a time when a wonderful wedding will take place.
And I heard as it were the voice of a great multitude, and as the voice of many waters, and as the voice of mighty thunderings, saying, Alleluia: for the Lord God omnipotent reigns. Let us be glad and rejoice, and give honor to him: for the marriage of the Lamb is come, and his wife has made herself ready. And to her was granted that she should be arrayed in fine linen, clean and white: for the fine linen is the righteousness of saints. And he said unto me, Write, Blessed are they which are called unto the marriage supper of the Lamb. And he said unto me, These are the true sayings of God. (Rev. 19:6-9)
Here the ultimate marriage is between Christ and His bride who the scriptures say: "has made HERSELF ready.
A Final thought
Everything about marriage in the Bible cries out that God designed it to be celebrated between a man and a woman. Those who argue otherwise do not have the strength of the scriptures to defend them. On the contrary, same-sex unions mock marriage and its purpose.