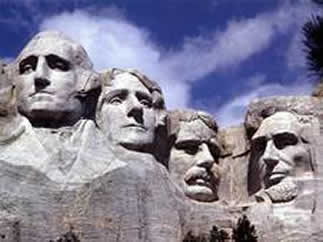 Blow the Trumpet is pleased to announce the completion of an expanded edition of the "American Presidents" wing of its website. This wing contains biographies of all forty-four of our nation's chief executives as well as over two hundred video links (including three major motion pictures) to some of the most significant events in its history.

Visitors can watch President Kennedy's inaugural address when he exhorted Americans to "Ask not what your country can do for you. Ask what you can do for your country." Or, they may witness President Ronald Reagan challenging the Soviet Union's Mikhail Gorbachev to "tear down this wall."

Additionally, this wing contains detailed insights into 911, the Cuban missle crisis, and the assassinations of presidents Lincoln and Kennedy. Through it guests may also visit every Presidential Library and and witness dramatic reinactments of the framing of the constitution and Declaration of Independence.

"American Presidents" is an absolutely priceless resource for young and old and tells a story that brings American history to life.

To access this extraordinary resource click HERE.