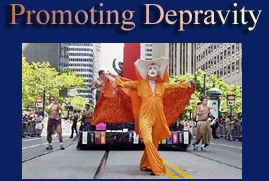 The following advertisement was placed in a prominent magazine seeking people to participate in a Gay Pride parade in Australia this year. As you read it consider the words of King Solomon.
"Righteousness exalts a nation: but sin is a reproach to any people." (Pro. 14:34)
Advertisement
Ever wanted to strut your stuff in leather and lace? Dance on a float to banging dance music in little but a habit before an adoring audience? Then get on a plane to Sydney next February and head for the annual Mardi Gras. The city will be buzzing with anticipation and the feel-good factor as boys and boys and girls and girls and boys and girls of every hue come out to celebrate.

The nights are hot and steamy, the booze flows, and 300,000 people line the streets to see hunks in trunks and dykes on bikes zip past in the parade. Join hands with your neighbour, grab a cowboy hat, and party the night away.
The following advertisement was placed on a Billboard on Massachusetts Avenue near M.I.T:

~~~
While pro homosexual advocates try to represent this behavior as the moral equivilent of traditional relationships and deserving of the same recognition, the real truth speak a far different language. In what may be the most prominent "gay" website on the Internet, the following on-line dating promotions appeared.
~~~
"MILLIONS OF GUYS
LOOKING TO CHAT, FLIRT AND
CLOSE THE DEAL"
~~~
"HOOK UP
with the
Hottest Men
for Tonight or a Lifetime!"