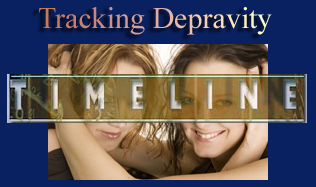 What was once a behavior that was kept in the "closet," homosexuality has now taken center stage in its battle for acceptance. Below are links to news stories concerning homosexuality's march toward being recognized as a legitimate lifestyle. This is just a small fraction of articles being carried in journals across the United States.
~~~
Friday 31, 2007
Associated Press
DEMOINS, IOWA — Judge Robert Hanson said he issued the stay about noon. Earlier, he had told the county attorney to instruct the Polk County recorder to stop accepting same-sex marriage applications. By the time Recorder Julie Haggerty stopped taking applications around 11 a.m., her office had accepted 21 applications. After applying, one couple obtained a judge's waiver of Iowa's three-day waiting period for marriage licenses.
~~~
Wednesday April 18, 2007
Associated Press
SALEM, Ore. — Same-sex couples would receive the same benefits as married couples, and gays and lesbians would be protected against discrimination under bills approved Tuesday by the Oregon House.
~~~
Judge Upholds Illinois School's Ban on 'Be Happy, Not Gay' Shirt
Wednesday April 18, 2007
Associated Press
CHICAGO — Two Neuqua Valley High School students won't be able to wear T-shirts saying "Be Happy, Not Gay," to school on Thursday following a judge's ruling. U.S. District Judge William T. Hart ruled in favor of the high school Tuesday in a preliminary injunction that would have allowed the students to wear the shirts the day after Wednesday's National Day of Silence.
~~~
Thursday April 7, 2007
Reuters
LOS ANGELES — The Walt Disney Co. has changed its policy to allow same-sex couples to participate in a popular Fairy Tale Wedding program it runs mainly at its two U.S. resorts and cruise line, a Disney spokesman said on Thursday.
~~~
Friday February 23, 2007
Associated Press
BOSTON — A federal judge on Friday threw out a lawsuit filed by parents who wanted to keep their young children from learning about gay marriage in school. U.S. District Judge Mark Wolf said federal courts have decided in other cases that parents' rights to exercise their religious beliefs are not violated when their children are exposed to contrary ideas in school.
~~~
Mary Cheney and Partner Are About to Be Moms
Wednesday December 6, 2006
Washington Post. com
Mary Cheney, the vice president's openly gay daughter, is pregnant. She and her partner of 15 years, Heather Poe, are "ecstatic" about the baby, due in late spring, said a source close to the couple.
~~~
S. Africa Parliament OKs Gay Marriages

Tuesday November 14, 2006
Associated Press
The South African parliament on Tuesday approved new legislation recognizing gay marriages _ a first for a continent where homosexuality is largely taboo.
~~~
Thursday November 9, 2006
Associated Press
HOUSTON — A few short weeks ago, Garden Guy was just a mom-and-pop landscaping business that promoted itself as "making Houston beautiful since 1991" and promised to treat its customers with respect and honesty. Since then, though, the business has been vilified around the world as a bunch of bigots because its Christian
~~~
Tuesday October 17, 2006
UK Telegraph

Primary school teachers may be required by new ''sexual orientation" laws to make gay rights books available in class, a Christian group claimed yesterday. Children would have to read books such as Hello Sailor, The Sissy Duckling and Daddy's New Roommate, which are on a Government-recommended reading list for challenging ''homophobia".
~~~
Tuesday August 22, 2006
CNS News
The Democrat-controlled California Assembly on Monday passed what conservatives describe as a homosexual indoctrination bill. The bill, SB 1437, says California public schools may neither teach nor sponsor any activity that "reflects adversely" on anyone because of their sexual orientation.
~~~

Monday, August 7, 2006
San Francisco Chronicle
WASHINGTON — Alexander Raggio says he was 16 when he learned one of his relatives was gay — and watching that person's struggle gave him a grim introduction to discrimination against gays.
~~~
Monday, August 7, 2006
San Francisco Chronicle
A new strategy to win legal recognition for same-sex couples is emerging in Colorado, a state that is a bulwark of the conservative Christian movement. At least one constitutional amendment to ban marriage for same-sex couples is expected to be submitted here today for the statewide November ballot. But some gay rights organizations in the state are not fighting it.
~~~
Wednday July 26, 2006
CNS News
Britain's "Gay Police Association" (GPA) is under investigation by Scotland Yard for possibly committing a "faith crime" when it ran a newspaper advertisement claiming that Christianity was the cause of a jump in violence against homosexuals.

~~~
War Forces Cancellation of WorldPride Parade
Monday July 24, 2006
By Julie Stahl, CNSNews.com Jerusalem Bureau Chief

Jerusalem (CNSNews.com) - An international celebration of homosexuality will take place as scheduled in Jerusalem next month, but organizers of the WorldPride event now say they've postponed a planned LGBT parade through the streets of Jerusalem.

~~~
Three-year-olds to be taught about gay relationships
Fri, July 21, 2006
The Daily Mail
Children as young as three should be taught about same-sex relationships in a bid to stamp out homophobia in schools, it was claimed yesterday. The National Union of Teachers, the country's largest teaching union, sparked outrage by demanding that nursery staff help to educate children about gay families. It claims it is too late to wait until youngsters arrive at primary school to learn about the subject because some three-year-olds are already using homophobic language.
~~~
Monday July 17
Life Site
MADRID, Spain, July 17, 2006 (LifeSiteNews.com) – Spanish children as young as 10 will be taught pro-homosexual material as part of a new school curriculum, the Telegraph reported Friday.
The socialist government revealed plans last week to include teaching about the homosexual lifestyle in the schools, emphasizing the normalcy of homosexual relationships. The general secretary for education, Alejandro Tiana, said the move was necessary because "children need to learn there are various types of families."
~~~
Tuesday June 20, 2006
Associated Press
COLUMBUS, Ohio — Episcopal clergy and lay delegates Tuesday rejected a demand from fellow Anglicans that they temporarily stop electing gay bishops, leaving little chance the proposal could be revived at a national church meeting.
~~~
Saturday June 10, 2006
The Telegraph UK
New Government proposals on equality could require clergy to bless homosexual "weddings" or face prosecution, the Church of England said yesterday.
~~~
Wednesday May 31, 2006
CNS News
The highest court in New York heard a challenge to the state's marriage laws on Wednesday. Curtis Woolbright, who along with his partner Daniel Reyes is suing to marry in New York, compared the ban on same-sex marriage to the ban on interracial marriage during the civil rights era.

~~~
California's 'Gay History' Bill Advances

Friday May 5, 2006
CNS News
A California Senate committee has approved a bill requiring "gay history" to be included in public school textbooks. The bill now moves to the full Senate, where a vote may come next week. Not requiring textbooks to include homosexuals' and transgenders' contributions to California history amounts to "enforced invisibility," said Sen. Sheila Kuehl, the Democrat lesbian who introduced the bill.

~~~
Appeals Court Sidesteps Gay Marriage Constitutional Question
Friday May 5, 2006
Associated Press
SAN FRANCISCO — A federal appeals court on Friday sidestepped whether it was unconstitutional under federal and state law to deny gays and lesbians the right to marry, leaving the issue to state courts to decide.
~~~
Friday March 31, 2006
Reuters News
BOSTON (Reuters) - Citing polling that suggests opposition to same-sex marriages is receding, gay rights advocates expressed confidence on Friday that such weddings would spread, despite a ruling by Massachusetts' highest court that bars homosexuals from other states from marrying there.
~~~
Tuesday March 21, 2006
Associated Press
A lawyer for eight gay couples argued in court Tuesday that Connecticut's marriage laws illegally create a separate class of people based on sexual orientation.
~~~
Thursday March 2, 2006
The Santa Rosa Press Democrat
The church trial of Presbyterian minister Jane Adams Spahr opened in Santa Rosa this morning with the evangelist defending her decision to perform marriage ceremonies for gay couples.

~~~
Gay rights activists hold rally

Thursday February 23, 2006
Montgomery Advertiser

About 75 gay rights activists braved the cold Sunday afternoon and stood on the steps of the state Capitol listening to speeches and singing songs of equality. The event marked the sixth anniversary of the death of Billy Jack Gaither, who was beaten and stabbed to death because he was gay. A failed bill in the House of Representatives that would have added sexual orientation to the state's hate crimes law was on the minds of several of the speakers and attendees.
~~~
DePaul University Offers Degree Program in Queer Studies
Monday February 20, 2006
Chiago Tribune
College student Eric Oliver sits in the classroom's front row, ready to learn about Italian poet Dante and Catholic theologian St. Thomas Aquinas and their views on morality and sin. But this isn't a religion, philosophy or literature class. It's an introductory course in queer studies, and for the next 90 minutes, Oliver and his classmates study the history of same-sex desire, the biology of gender identity and government reactions to homosexual behavior. It is no longer remarkable that the subjects are taught, but on this day, it is notable where the discussion is taking place.

~~~
Gay-rights activist dies after winning legal fight
Sunday February 19, 2006
Associated Press
POINT PLEASANT -- A cancer-stricken law-enforcement officer who sought to have her pension benefits extended to her longtime domestic partner died early Saturday.
~~~
Sunday February 19, 2006
Associated Press
SAN JOSE, Calif. (AP) - A gay-rights uproar in the popular World of Warcraft online game has spurred the game's maker to review its treatment of gay players.
~~~
Sunday February 19, 2006
Associated Press
PHILADELPHIA - State treasurer Bob Casey, Sen. Rick Santorum's leading Democratic challenger, told an audience at an event sponsored by a gay rights organization that if elected he would fight discrimination "wherever I find it."
~~~
Tuesday January 31, 2006
Associated Press
OLYMPIA, Wash. (AP) - Gov. Chris Gregoire signed a gay civil rights bill into law Tuesday, though the law may be held in limbo if opponents are successful in forcing a referendum. The measure adds "sexual orientation" to the state law that bans discrimination in housing, employment, insurance and credit.
~~~
Saturday January 28, 2006
Associated Press
OLYMPIA, Wash. — Before he died of AIDS, the state's first openly gay lawmaker asked a friend for a promise: that he would keep working on gay civil rights legislation.
~~~
Friday January 20, 2006
Associated Press
NEW YORK — Three months before the annual Easter egg roll at the White House, the usually festive event is already taking on a divisive edge because of plans by gay- and lesbian-led families to turn out en masse in hopes of raising their public profile.
~~~
Friday January 20, 2006
Associated Press
BALTIMORE — A judge on Friday struck down a 33-year-old Maryland law against same sex marriage, agreeing with 19 gay men and women that it violates the state constitution's guarantee of equal rights.
~~~
First Female and Gay Speaker Elected to New York City Council
Wednesday January 4, 2006
Fox News
NEW YORK — New York's City Council on Wednesday elected its first woman and first openly gay leader, a position widely regarded as the second-most powerful seat in city government.
~~~
Frank: 'Angry' Fight Ahead on Gay Marriage in Massachusetts
Friday December 30, 2005
Associated Press
WASHINGTON — Rep. Barney Frank sees an "angry, divisive" fight ahead for Massachusetts if a proposed constitutional amendment to ban gay marriage reaches the 2008 state ballot.
~~~
Suspected Lesbian Students Sue Christian School for Expulsion
Thursday December 29, 2005
Associated Press
RIVERSIDE, Calif. — Two 16-year-olds who were expelled from a Lutheran high school because they were suspected of being lesbians have sued the school for invasion of privacy and discrimination.
~~~
Monday December 5, 2005
Associated Press
LONDON — Gay couples in Britain began registering for civil partnerships Monday as a law took effect giving them many of the same legal rights as married heterosexuals. Scores showed up at town halls across the country, eager to claim the benefits and official recognition — although not the official title "marriage" — for which some have waited decades.
~~~
Alaskan Judge Protects Benefits for Same-Sex Couples
Saturday October 29, 2005
Associated Press
ANCHORAGE, Alaska — The Alaska Supreme Court ruled Friday it is unconstitutional to deny benefits to the same-sex partners of public employees, a victory for gay rights advocates in one of the first states to pass a constitutional ban on gay marriage.
~~~
Tuesday September 20, 2005
Associated Press
HARTFORD, Conn. — Connecticut will recognize civil unions and possibly domestic partnerships from other states and foreign countries when a new law allowing civil unions takes effect here Oct. 1.
~~~
Tuesday September 20, 2005
Associated Press
SACRAMENTO, Calif — Gay rights supporters cheered loudly from the gallery as California lawmakers became the first in the country to approve a bill allowing same-sex marriages. But their celebration may be short-lived.
~~~
Calif. Court Upholds Gay Parents' Rights
Tuesday August 23, 2005
Associated Press
SAN FRANCISCO — In the latest ruling to recognize rights of same-sex couples, the California Supreme Court has said gay and lesbian couples who raise children are lawful parents and must provide for their children if they break up.
~~~
Thursday August 18, 2005
Associated Press
NEW YORK — Kanye West says "gay" has become an antonym to hip-hop — and that it needs to be stopped. During an interview for an MTV special, the 27-year-old rapper launched into a discussion about hip-hop and homosexuality while talking about "Hey Mama," a song on his upcoming album, "Late Registration."
~~~
Thursday July 28, 2005
Associated Press
SALT LAKE CITY — The state of Utah can't block a woman from using her license plate to tell the world "GAYSROK," a judge has ruled.
~~~
TV Network for Gays, Lesbians to Debut
Monday June 27, 2005
Associated Press
NEW YORK — The man who's molding Logo, the new network for gays and lesbians, grew up in rural Illinois, attended Oral Roberts University and counted that cheesy keyboard solo on "Freeze Frame" as his big moment during gigs with his college band the Ozones. At first glance, Brian Graden hardly seems too hip for the room.
~~~
ACLU Sues School Over Gay Pride Shirt Ban
Wednesday November 24, 2004
Associated Press
KANSAS CITY, Mo. — The American Civil Liberties Union on Tuesday sued a southwest Missouri school district for prohibiting a high school student from wearing gay pride-themed T-shirts.
~~~
Tuesday November 16, 2004
Associated Press
CHICAGO — The Pentagon has agreed to warn military bases worldwide not to directly sponsor Boy Scout troops, partially resolving claims that the government has engaged in religious discrimination by supporting a group that requires members to believe in God.
~~~
Teen Promotes Own Homosexuality in School Election
Tuesday April 27, 2004
Associated Press
RALEIGH, N.C. — An openly gay student is fighting to campaign in his high school election with posters that read: "Gay Guys Know Everything!" and "Queer Guy for Hunt High."